Welcome to the Nolensville Running Club website! The Nolensville Running Club (NRC) is a 501(c)3 Non-Profit Organization that was formed by Scott Alexander in March of 2010 as a way to connect with others in South Nashville who share a passion for running. Our purpose is to promote the sport of running as a hobby, to increase personal fitness, and to promote community among local runners. Although running is an important part of what we do (it is a running club after all), one of our main goals is to encourage others while, at the same time, developing long-lasting friendships.  There is no cost to join our group so come on out, get in a little exercise, and meet some of the friendliest people that you can find!!  So, when do we meet? Take a look at the Wednesday Saturday Group Runs tab above.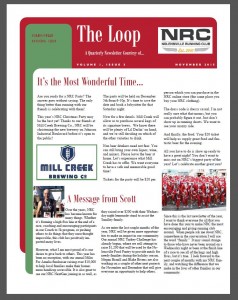 The latest edition of our quarterly newsletter, The Loop November 2015 is hot off the presses!!  Be sure to check it out!! Thanks to John Dunn for all time he takes to put these together. NRC appreciates you.
It's time once again for the NRC Turkey Challenge!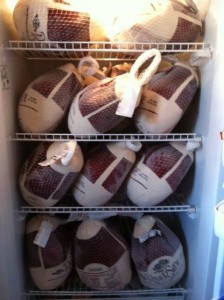 For those not aware, the NRC Turkey Challenge is a chance for NRC to partner with the Nolensville Food Pantry to provide needed turkeys and hams during the holiday season.
What is the Challenge?  For every mile you run, walk or turkey trot on November 7th and 8th NRC is challenging you to donate $1 per mile to support our efforts to provide quality meals this holiday season to those less fortunate. Last year we met our goal of $1,000 which helped provide over 20 turkeys and 40 hams!! This year we are setting our goal to raise $1,200!!
For those who are up for this challenge, we have a temporary account at the Nolensville branch of First TN Bank for easy deposits. Simply stop by between November 4th and November 16th and mention you have a donation for the NRC Turkey Challenge. Blake Bivens will also be accepting cash donations during our regular Wednesday night run, November 11th.  Kroger or Publix gift cards are welcome as well! Those can be given to Blake on the evening of the 11th.
We look forward to seeing our participation grow for this year's Turkey Challenge!!!
This year's NRC Christmas Party may be the best yet! Thanks to our friends at Mill Creek Brewing Co., NRC will be christening the new brewery on Johnson Industrial Boulevard before it's open to the public! The party will be held on December 5th from 6-10 pm. It's time to save the date and book a babysitter for that Saturday night. Now for a few details. Mill Creek will allow us to purchase several kegs of its signature brews. We know there will be plenty of Lil Darlin' on hand, and we're still deciding on which of the other varieties to drink. Non beer drinkers need not fear. You can still bring your own liquor, wine, and mixers. Please leave the beer at home. Let's experience what Mill Creek has to offer. We want everyone to have a safe and memorable good time!
While you are here visiting our website, don't forget to read about our newest Runner's of the Month!!  Katherine Cain and Jimmy Stitt.  It's a great way to learn a little more about our members.  Thanks as always to Amy Owsley for the outstanding articles.