March 2015!
 The NRC Store is now open!! There are limited times during the year when we open the store for our runners to get the latest bling. Now is the time to get the newest NRC spring and summer gear.  Visit today to start shopping.  The store will remain open until Sunday, March 29th.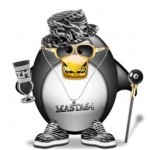 A Great Way to Help our Local Elementary School During the Month of March!!
During the month of March, the Nolensville Elementary School will be participating in the Walk Across Williamson – a countywide contest that challenges students, parents, teachers, staff, and the community to be physically active from March 1st – March 31st.   The school is challenging their students, teachers, and community to be active for at least 1,800 minutes (30 hours) during this month time span. The more minutes they record, the better their chances of winning grant money up to $2,000!!  We are hoping NRC can play a large role and help to bring the school to a victory!! You can log any of your minutes walking or running! Minutes should be logged for each day on the linked below Walk Across Williamson Activity Log.  All logs will be collected the last week of March in order to turn back in to the school.  Let's show the school and our community how NRC can help to really make a difference!!
For questions, email Amy Klotz
Walk Across Williamson Activity Log   (*remember to log minutes, not miles)
 April 2015!
NRC Couch to 5k Program 2015 -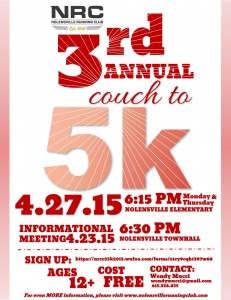 Each year NRC organizes a FREE Couch to 5k program in order to promote a healthier lifestyle in our community!  Through NRC members volunteering their time as coaches and mentors, participants will be encouraged and coached toward completing their first 5k! - The Change For a Chance 5K on June 20, 2015 right here in Nolensville.
An informational meeting will be held on Thursday, April 23rd at 6:30 p.m. at the Nolensville Town Hall.
Mondays and Thursdays beginning on April 27th will be the two days each week that all groups will meet for training runs.  These group runs will meet at the Nolensville Elementary School at 6:15 p.m.  On the first meeting day on the 27th, you will participate in a time trial to help us determine training groups.  You will be grouped with others that match your current fitness level and goals.  This is an amazing program and we are excited that this will be our 3rd year encouraging new runners. There have been so many success stories that have their roots in this program!!  To sign up for the program, please click  HERE!!
Questions can be emailed to Scott Alexander or Wendy Mucci.
While you are here visiting our website, don't forget to read about our newest Runner's of the Month!!  Elizabeth Pfeiffer and John Dunn.  It's a great way to learn a little more about our members.  Thanks as always to Amy Owsley for the outstanding articles.