Upcoming Races/Events!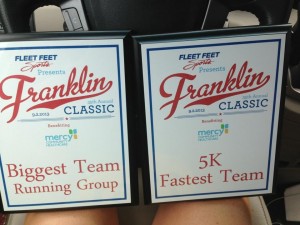 September 1st
36th Annual Franklin Classic 5K, 10K, & 1K Fun Run
7:00 10K, 8:30 AM 5K, 9:30 AM, Historic Franklin Square, Franklin, TN
Information: Tracie Dycus, (615) 790-0567 x 237, www.mercycommunityhealthcare.org
Be sure to sign up as part of team NRC when you register!
What's Next?? It's an NRC family picnic!!  Join us on September 6th for an evening at Arrington Vineyards! Bring your family, camping chairs or blanket and a food item to share. Cheers!
WEDNESDAY NIGHT GROUP RUNS: 6:15 p.m. - From Nolensville Town Hall
Come Prepared NRC!  Maps are provided on Wednesday nights for the 4 Mile routes. However, here is the rotation in case you want a sneak preview:
Hill Yea!! 1st Wednesday of each month (For 3 Mile version click HERE)
Track 'n Back  2nd Wednesday of each month (For 3 Mile version click HERE)
Achilles Hill 3rd Wednesday of each month (For 3 Mile version click HERE)
F.O.U.R. (Focus On The Ultimate Reward) 4th Wednesday of each month (For 3 Mile version click HERE)
Downhill at Dortch 5th Wednesday of each month (For 3 Mile version click HERE)
**Alternate option that Scott may choose to use from time to time One Bump in the Road (For 3 Mile version click HERE)