NRC Couch to 5k Program 2015!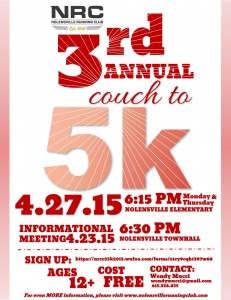 Each year NRC organizes a FREE Couch to 5k program in order to promote a healthier lifestyle in our community!  Through NRC members volunteering their time as coaches and mentors, participants will be encouraged and coached toward completing their first 5k! - The Change For a Chance 5K on June 20, 2015 right here in Nolensville.
An informational meeting will be held on Thursday, April 23rd at 6:30 p.m. at the Nolensville Town Hall.
Mondays and Thursdays beginning on April 27th will be the two days each week that all groups will meet for training runs.  These group runs will meet at the Nolensville Elementary School at 6:15 p.m.  On the first meeting day on the 27th, you will participate in a time trial to help us determine training groups.  You will be grouped with others that match your current fitness level and goals.  This is an amazing program and we are excited that this will be our 3rd year encouraging new runners. There have been so many success stories that have their roots in this program!!  To sign up for the program, please click  HERE!!
Questions can be emailed to Scott Alexander or Wendy Mucci.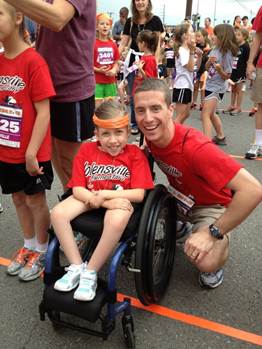 Hi NRC! It's time for the third annual NRC Miles For Amelia to benefit Tucker's House! We will be holding the event this year on June 27 from 6am-12pm at the Nolensville track. More details to come, but if you want to find out about what this benefit fun run is all about, visit Tucker's House. Over the past two years we have raised over $30,000 for these beautiful children. Save the date and help us continue impacting their lives!
While you are here visiting our website, don't forget to read about our newest Runner's of the Month!!  Elizabeth Pfeiffer and John Dunn.  It's a great way to learn a little more about our members.  Thanks as always to Amy Owsley for the outstanding articles.